When Friendly and Knowledgeable are better than Suit and Tie
When Friendly and Knowledgeable are better than Suit and Tie
Here we are in 2017. The time, it seems, keeps getting faster and faster. Shoot, it seems like only yesterday my son was heading off to Kindergarten with a new backpack slung over his little shoulders and his mom tearing up as he waved out the bus window. Fast forward 17 years and he's a recent college grad in what seems like a blink to me.
I bring up the reference to time because time is the great measuring stick of change. In the garage door industry, as soon as a few decades ago, the list of garage door companies was much smaller and many sales were completed quickly and efficiently over the phone. Product lines were smaller and what garage door dealers could offer by way of residential garage doors was very limited compared to the seemingly endless breadth of styles, colors, and accessories available to us today
When product lines expand, or in this case explode, a new requirement emerges for every business. We now need to find and train good people on what our offerings are and even more importantly convey the awesomeness to you! You have questions and we need to insure we have answers.
Years and years of working in the great communities we service has taught us what it takes to make you happy. We listen intently and we learn to adapt to your needs. The one size fits all paradigm died with the station wagon, although who didn't love sitting backwards on a long road trip.
But I digress. We're not selling Encyclopedia Britannica or Kirby Vacuums therefore we don't need the suit and tie salesperson.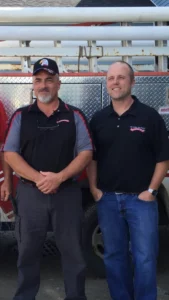 Let me introduce to you Mr. Micah Kasprzak and Mr. Dave Wooley (DW, for short). Micah comes to us from previously being one of our outstanding garage door technicians. Micah's product knowledge is born from installing and servicing garage doors and has the field experience to identify and address virtually any concern you have from new construction to remodel. DW comes to us from one of those Big Box stores and has oodles of construction experience along with a great eye for design. Don't tell DW I said this about him but he's a bit of a music buff too and has cut his own album! Both guys are super friendly, very attentive, and you will not find better garage door information transfer engineers anywhere in Maine, period.
We fully expect both gentlemen to be with us for a very long time so whether you're in need of garage door service now – or if you have time and just want to see what we can offer – I would recommend reaching out to either of these two. They won't be in suit and tie but they will be friendly and knowledgeable.