Garage Door Frequently Asked Questions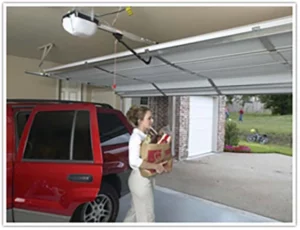 At Overhead Door ™, we pride ourselves on producing garage doors that are both durable and long lasting. Whether you're looking to purchase a garage door or looking for upkeep information, these FAQs can provide the information you need to select the perfect garage door and keep it looking great, year after year.
What are the standard sizes available for your residential garage doors?
In general, standard sizes for door widths are 8', 9' 10', 12', 15', 16', 18' and 20'. Some garage door series may have exceptions to this rule. Check with the Overhead Door ™ sales team about the availability of specific sizes or custom width doors.
Can I paint my garage door?
Yes! All Overhead Door ™ steel garage doors can be painted with the color of your choice by using latex paint.
Can I replace a section of my garage door or do I need to replace the whole garage door?
Depending upon the damage involved to the garage door system, it is possible in many cases to replace a section of your garage door. Overhead Door of Bangor ™ can evaluate your situation and give you a recommendation on the best course of action.
What is R-value and how does it benefit me?
R-value is a standardized measurement of thermal efficiency. The higher the R-value, the greater the insulating properties. Overhead Door manufactures insulated garage doors with a broad range of R-values designed to meet your needs. Our Thermacore® doors offer our highest R-values – up to 17.5.
How much does a garage door system cost?
Our products are available exclusively through a nationwide network of Overhead Door ™ ribbon distributors. The price of your new garage door is influenced by a wide range of factors, including regional conditions. Contact Overhead Door of Bangor for an accurate price for the specific product you are considering.
What maintenance does my garage door require?
We recommend you have your garage door inspected annually. Overhead Door of Bangor ™ can give you the most thorough evaluation and perform routine maintenance as needed.
I have a low ceiling in my garage. Will a garage door and opener work in my space?
Yes. A residential door requires a minimum of 4 ½" of headroom space. Your system will need a low headroom extension track or a low headroom torsion rear track. For a garage door opener you'll need slightly more headroom, about 6 ½" minimum.
Can my non-insulated garage door be insulated?
Yes, Overhead Door of Bangor ™ has insulation kits available for installation.
What are some steps I can take to maintain my garage door?
Visual Inspection – Look at the garage door springs, cables, rollers, pulleys and other door hardware for signs of wear. If you suspect problems, have a qualified person make repairs. Make sure tracks are free of grease, oil or dirt (this can cause door(s) to bind).
Avoid a Moving Garage Door and Keep Hands and Fingers Clear – Do not stand, walk or run under a moving garage door. Hands and fingers must be kept clear from section joints, hinges, track, springs and other door parts.
Do Not Let Children Play With Transmitters or Remote Controls – Garage door operators are not toys. Keep them out of the reach of children. Push-button wall controls must be mounted high enough to be out of the reach of children.
Only Operate The Garage Door If You Can See It – Keep the garage door in sight until it closes completely.
Test the Reversing Mechanism Monthly – If an object obstructs the door as it is closing, the door should reverse. Make sure the garage door operator is equipped with such a reversing feature. If the door does not reverse, have it repaired or replaced by a person qualified to make repairs.
Test the Garage Door Balance Monthly – With the garage door in the closed position and the operator disconnected, lift the door. It should lift smoothly and with little resistance and should remain open. If the door is out of balance, have the door system adjusted by a person qualified to make adjustments.
Test the Force Setting Monthly – Hold up the bottom of the garage door as it closes. If the door does not easily reverse, the force is excessive and needs adjustment by a qualified person.