A Walk through the DoorView® Design Center
A Walk through the DoorView® Design Center
Selecting a garage door that complements the style of your home can be daunting, especially with so many options to choose from. To help make things easier, Overhead Door ™ offers DoorView®, an online visualization tool that allows you to select various garage door options and see how they will look on your actual home. In today's post, we walk you through the simple process of using this tool so that you can begin the search for the perfect garage door.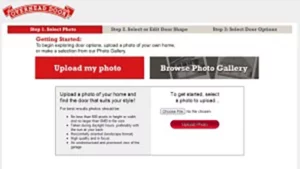 Step 1: Select Photo
One of the highlights of the DoorView® Design Center is the ability to upload and alter a photo of your actual home. This allows you to match any of our options, including collection, color and panel design, to your home's architectural style. If you don't have a photo of your home to upload, no problem! You can always browse our photo gallery and select a photo with a similar design and garage door opening. If your garage door is visible on Google Maps Street View, you can always pull a photo from there, too.
Step 2: Select or Edit Door Shape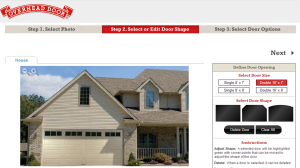 Once you've uploaded a photo, there's one more thing you must do before you can start designing. In Step 2, you will be asked to define the door opening and shape. This allows the options that you add to accurately match your home.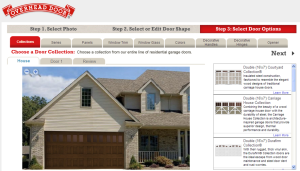 Step 3: Select Door Options
Now comes the fun part. See which options look best on your home by selecting from our entire line of residential garage doors. Match door collections with panel designs, windows, colors and decorative hardware. You even have the option to choose the garage door opener! Once you've made your selection, you can email or print your project specifications. You can also share your project on Facebook to get feedback from your friends!
To get more help with the garage door selection process, watch our Garage Door Selection 101 video series. As the industry's most comprehensive and informational video series, you'll learn the things you need to know in these videos that highlight everything from insulation and pricing, to style and curb appeal.
Whether you've got the look you want or still have questions, contact an Overhead Door ™ distributor for more information and to receive a quote.
Read more http://ohdcorp.wordpress.com/2013/07/23/a-walk-through-the-doorview-design-center/