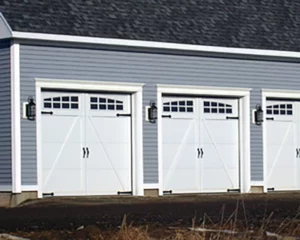 Owned and operated by David and Kimberley Ripley within the state of Maine, Overhead Door strives to provide quality, professional garage door installation and maintenance services to enhance the look and functionality of your home. Overhead Door offers a wide variety of commercial and residential garage doors, and with multiple locations, it's never been easier to get started improving your home with a unique, durable, long lasting garage door. Contact us today or stop by one of our locations in Bangor, and Aroostook (located in Caribou) to speak with an Overhead Door professional!
About Overhead Door of Bangor
The Bangor facility opened in 1980 filling a regional need and helping alleviate the frustrations of poor quality and unreliable suppliers in the garage door arena. Overhead Door pioneered the overhead lift door technology: the product itself has become synonymous with the Overhead Door brand name.
While much of Overhead Door Company of Bangor's business is in installation and subsequent service, there has been increased retail foot traffic through its showroom. It also enjoys a good relationship with architects and engineering firms regionally.
One of the reasons for Overhead Door Company of Bangor's success has been its employees. We believe in training personnel to provide quality service. They take national certification courses. The business itself is accredited with the International Door Association, and IDEA, International Door Education Association. This assures customers that they'll receive the most professional, knowledgeable, reputable service. Our biggest reason for our success is behind our motto: Safety, Quality and Professionalism.
About Overhead Door of Aroostook
Located in Caribou, Overhead Door of Aroostook offers products including: rolling steel doors (security grilles and fire doors), garage doors, counter shutters (for organizations such as postal offices), dock equipment, weather stripping, and radio-remote controlled doors and openers.
Overhead Door of Aroostook also provides 24-hour emergency service over the phone at 207-554-9097, as well as free in-home estimates.
320 Bowles Rd, Caribou, Maine 04736
Phone: 207-554-9044
Hours: Monday – Friday 8:00am – 5:00pm
About the Overhead Door Corporation
Overhead Door Corporation — based in Lewisville, Texas — is recognized as the leading single-source manufacturer of integrated garage door and operator systems for commercial, industrial and residential applications. The company's comprehensive product line encompasses residential garage doors and openers; sectional doors and rolling-service doors for commercial and industrial buildings; high-speed traffic doors; security grilles and closures for a variety of retail and commercial uses; truck and trailer cargo doors; and more.