Selling a House That's Still on the Market?
Selling a House That's Still on the Market?
What happens when the home that you are trying to sell isn't generating the interest you thought it would? For homeowners planning to put their home on the market, staging is a common way to attract potential buyers and create buzz. While many tend to focus on sprucing up the inside of their home, a home's exterior is the first thing that potential homebuyers will see and shouldn't be neglected. From landscaping to color, it's the little details that can make a big difference, helping to create a more inviting space and boosting your home's value.
For three years, the Cost vs. Value report from Remodeling Magazine has found that garage door replacements consistently deliver a good return on investment (up to 75 percent on average) when it comes time to sell. While upgrading your garage door may not be the first thing that you think of when staging your home for resale, it might be the most important investment you make. As the largest entry point to your home, changing the appearance of your garage door can dramatically alter your home's curb appeal.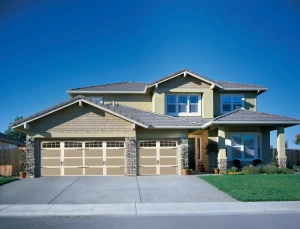 With a variety of styles and designs, there's sure to be an Overhead Door's residential garage door that matches the look of your home. By choosing one of Overhead Door's residential options, you'll see a dramatic improvement to your home's curb appeal and get a leg-up on the competition, whether you are in the process of selling your home or plan to list it in the future.
Looking for additional ways to enhance your home's curb appeal? Here are a few tips that we think will help you sell your home:
Add a splash of color by enhancing your landscape with seasonal flowers
Replace old hardware and rusted downspouts or gutters with newer systems that require less maintenance.
Cover up chipped paint on shutters, railings or accent trim.
Replace missing or broken pavers in or around flower beds and walkways.
Wash down your house to remove any dirt or mold residue on your home's siding.
If you have questions about the benefits of an upgraded residential garage door from Overhead Door, contact your local Overhead Door distributor and find the door that best enhances the look of your home.
This entry was posted in Curb Appeal, Industry News, Solutions and tagged cost vs value, Curb Appeal, garage doors by leneishayoung. Bookmark the permalink.
Read more http://ohdcorp.wordpress.com/2013/07/09/selling-a-house-thats-still-on-the-market/