We know choosing a new garage door and system can be a daunting task. Between considering a style, selecting a color and worrying about price, it's easy to get distracted and forget about one of the most important aspects – safety. It's something that homeowners too often overlook. Luckily, Overhead Door ™ does not, and we build many safety features into our doors, openers and accessories that will help to keep your home and family safe. Below are just some of the many safety features you'll find in Overhead Door products.
LightingOne of the most important safety features to consider when remodeling your garage or purchasing a new garage door and opener system is garage lighting. All Overhead Door ™ openers feature a lighting system that activates when you open your garage door and then switch off after a set time. And some, like our Destiny® and Odyssey® openers, even include motion detection lighting that will turn on the lights for you so you aren't fumbling for a light switch in a dark garage.
Accident PreventionOur Safe-T-Beam System®, standard in all Overhead Door openers, stops and reverses a closing door when an object passes through its infrared beam, helping to prevent accidents when your garage door is closing.
Battery Back-Up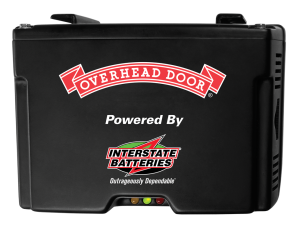 Power'sout? Noproblem. The Overhead Door Battery. Unit allows you to continue to operate your garage door during a power outage. This system reaches a full charge in 48 hours and gives you up to 50 cycles of use in a 24-hour period after the initial power outage.
SecurityPart of keeping your garage safe is keeping it secure. That's why we use the latest in CodeDodger® technology on all our openers, which prevents piracy of the radio signal that opens your garage door. This technology chooses a code from one of billions of combinations, keeping it encrypted for maximum security.
For further security, Overhead Door ™ developed the Door Report™remote, a garage door opener remote control that answers the nagging question, "Did I close the garage door?" When your garage door closes, the Door Report™ remote flashes a green light and emits a beep for confirmation. If for some reason the garage door does not close properly, a warning tone sounds and a red light flashes to alert you. This innovative accessory eliminates uneasiness because you will never have to wonder, "Did I forget to shut the garage door?" again.
By visiting OverheadDoor.com, you can find more information on our products and accessories that enhance garage safety, as well as locate a distributor near you to discuss updating or adding these options to your system.
Read more http://ohdcorp.wordpress.com/2013/09/12/keeping-your-garage-safe/